Greetings from the President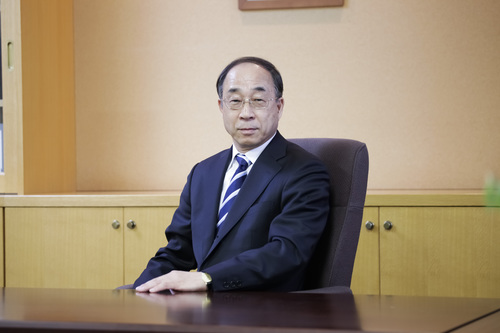 Nayoro City University was founded in 1960 as Nayoro Women's College, taking its current name in 2006 when the Nutritional Sciences and Nursing Departments began offering four-year programmes and, at the same time, a Department of Social Welfare was added. From 2016, the College of Early Childhood Education stopped accepting new admissions and the 4-year, degree-granting Department of Social Childhood Care and Education was formed in its place. In this way, over more than a half-century of history and in response to changing times, Nayoro City University has sent off more than 8000 graduates.
The mission of Nayoro City University is to Open the future of care, which refers not only to the human "software" of care, but also the innovation in care that comes from incorporating the latest available technological advances. With our four departments – Nutritional Sciences, Nursing, Social Welfare, and Social Childhood Care and Education – Nayoro City University is well-structured for research into the care that human beings require from birth to death. Collaboration and cooperation between these professional fields is essential to address the various and interconnected factors that shape the kinds of care that people require over their lifetimes. Our university is well placed to support those efforts.
The educational goal of Nayoro City University is to foster professionals who have a high degree of specialized knowledge and skill, strong ethical values, and a broad general knowledge with rich faculties of comprehension and judgment. As society becomes ever more shortsighted and materialistic, it is all the more important for us to provide an education that not only cultivates specialized skills but also the adaptive skills which prepare students to respond to the many changes that are shaping contemporary society. To that end, Nayoro has become the base for research and education in the Northern Hokkaido region.
Universities are now returning their investments in intellectual property to society. Regional universities, especially public ones, are expected to contribute to the well-being of their local communities. Nayoro City University, in response to local issues such as a decreasing population and an aging society with fewer children being born, in 2016 established the Centre for Research and Education in Community Care. Applying the university's expertise in the fields of healthcare, social welfare, childcare and education, and food and nutrition education, the university seeks to promote cooperation between industry, local government and academia and take the lead in providing models for resolution of community concerns.
Nayoro City University is the northernmost public university in Japan, surrounded by nature that is at times unforgiving but always bountiful, and we strive to be a small university that shines brightly. There is a wide range of student clubs and circles to make university life enjoyable and rewarding, and a Career Support Centre to help students find fulfilling careers or post-graduate studies. We welcome all prospective students who are interested in becoming active professionals in health and welfare-related careers in the future. Nayoro City University awaits you!

President of Nayoro City University
SAKO Kazuhiro